A Shiny white or silver round metal tin, filled with Sugar Free Peppermints. Branded on top of the lid.
Choose the colour of your tin when placing your order!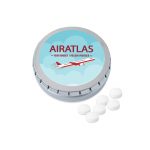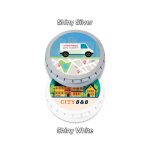 Lead time

5 weeks

Unit weight

80g

Filling quantity

50g

Product dimensions

72 x 22

Print area

60 x 60
Suitable for Vegetarians
Suitable for Vegans
Ingredients: sweetener: sorbitol; anti-caking
agent: magnesium salts of fatty acids; mint oil,
sweetener: aspartame, acesulfame K ; silicia. Contains a source of phenylalanine. Excessive consumption may produce laxative
effects. Store in a dry place. Protect from heat.
Nutritional Information per 100g: Energy 1009kJ/242kcal, Fat 0.7g, of which saturates 0.7g, Carbohydrates 98/2g, of which sugars 0.02g, protein 0g, salt 0g.